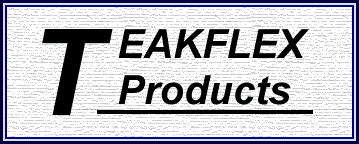 Hingeless Cockpit Leaf Table
This table was specially designed for the narrow cockpit. Measuring only 12 3/4" wide when closed. When folded down it leaves plenty of room to pass, and avoids climbing on the cockpit seats.

To open simply loosen the black knob and slide the top leaf over in it's track.

Remove the lower leaf from it's track and place it side" by side with the other leaf in the top track. In the open position the leves can be used fiddle side up or down. |

We Strongly recommend the use of a canvas cover with this table owing to the wood on wood leaves and tracks.


Teakflex Products
113 Liberty Street
Pawcatuck, CT 06379
For further information, please e-mail us at
teakflex@aol.com
1-888-388-0419