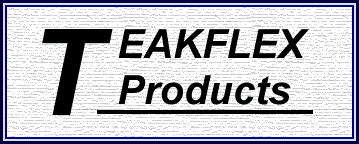 Standard Cockpit Table
Shown with the wrap-around drink rack
After a long day's sail, how convenient to have your cockpit table right where you need it -- not in some locker under a ton of gear. Your family and guests will enjoy dining under the stars on a warm summer evening. And when the lunch hook is down, they won't have to juggle plates, glasses and napkins on their laps. Constructed of solid teak which has been carefully selected for color and grain.
This table with fiddles folds down out of the way when not in use. Shown here attached to the wrap around drink rack. It's another perfect boat present at a very reasonable cost! This standard table measures 18" x 24".
Interchangeability
As you may have noticed in our photographs, there are many ways that Teakflex accessories accommodate themselves to each other or can stand alone. Add a second Drink Rack below the first or position your Utility Box beneath the table. Create your own layout with the versatile Teakflex line.
We suggest the use of a canvas cover - especially
when the extension leaf is purchased with the table.

Cockpit Leaf Table

| | |
| --- | --- |
| | Similar to the Standard Cockpit Table, the Cockpit Leaf Table measures 24" x 32". The closed size is 24" x 16". Custom Sizes Available. |

Cockpit Leaf Table with Extension
| | |
| --- | --- |
| | The leaf table extension is 12" x 32" making a total dining area of 32" x 36". The supporting mechanism slides beneath the leaf table. |

Hingeless Leaf Table


This table was specially designed for the narrow cockpit. Measuring only 12 3/4" wide when closed. When folded down it leaves plenty of room to pass, and avoids climbing on the cockpit seats.

To open simply loosen the black knob and slide the top leaf over in it's track.

Remove the lower leaf from it's track and place it side" by side with the other leaf in the top track. In the open position the leaves can be used fiddle side up or down.

We Strongly recommend the use of a canvas cover with this table owing to the wood on wood leaves and tracks.


Teakflex Products
113 Liberty Street
Pawcatuck, CT 06379
For further information, please e-mail us at
teakflex@aol.com
1-888-388-0419